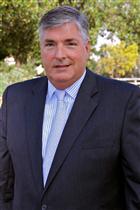 Greetings—
This time of year has many pleasures in driving through this rich and fertile valley, both in seeing the amazing productivity of fields and orchards, and enjoying the Spring bounty. On my way to Hanford, I noted a stunning hedge of red roses – 1.4 miles long, lined a field along Highway 43, with an occasional burst of pink flowers - a testament to someone's vision of an effective and beautiful boundary marker.
It was a chance to visit one of the Valley's unique assets, now in its final months of exhibition and public viewing: the Clark Collection just south of Hanford.
Literally surrounded by orchards and adjacent to restful gardens and ponds surrounding the Clark's private residence, this gallery and space reflects a lifetime of passion for the Clarks, building a collection of extraordinary scope and beauty that will find its home at the Walker Art Center in Minneapolis.
In a building filled with examples of a collection that spans hundreds of years of Japanese art and craft – paintings on silk, drawings, glazed pottery and bamboo sculptures, this testament to a passion is housed in a space designed to highlight and enhance the experience of viewing this collection.
It is on view until the summer months, when the facility will transition to a new purpose, as of yet undeclared.
And the Clark's prize winning collection of bonsai will soon be unveiled in Fresno's own Shinzen Garden, now one of three anchor collections in California, joining the Huntington in San Marino and Oakland. Expanding the Shinzen's capacity to engage in its unique mission here in Fresno is fueled not only by this extraordinary opportunity to expand its collection, but also its efforts to deepen the unique charms of its wonderful garden here in Fresno, and explore ways to expand its present and future support.
A visit to Hanford's popular and tasty Superior Dairy for some local ice cream, heaped in scoops of great abundance, and a walk around a downtown that has preserved its core architectural footprint, topped the afternoon. Hanford is another community in our valley anchored by its traditions, its unique contributions to civic life and its contributions to our economic bounty.
At the Regional Foundation, we understand the power of a legacy, and the passions that build businesses, collections, and communities. We are privileged to work with donors who want to translate those passions into ongoing support for local organizations or programs, who want to sustain the memory of a loved one or the contributions of those who mattered, and who see a fund here as an expression of their gratitude, belief in our future and the power of local philanthropy to make a difference.
Whether in the form of a scholarship that invests over generations, or a program that can be sustained by annual operating support, or the work of an institution that has transformed someone's life, investing in community is an opportunity to help shape the future of this region.
Community is often built in the small ways that we engage with other people, sharing food and drink, ideas and passions and the desire to make sure this place is not only a better one, but a better one for our children.
Whether it is preserving a unique bonsai collection for the enjoyment of thousands, or some other project that matters to you, let us find a way to help strengthen community across our region. Come join us in this good work.
Best Regards,
Hugh J. Ralston
President and CEO