Our mission and history
Our mission
" To improve the quality of life in our community through philanthropy. "
A community trust such as the Fresno Regional Foundation is a publicly supported organization which is favored by the tax laws, not only providing the maximum tax benefits to its donors but also providing for maximum flexibility in its operations and areas of service. It is, in effect, a vehicle for philanthropic-minded persons to combine their funds in one entity and create an "endowment" for the benefit of the community.
Established in 1966, Fresno Regional Foundation is a nonprofit community foundation serving California's Central San Joaquin Valley. We work to improve lives in our community by encouraging philanthropy. We provide unique opportunities for individual donors, families, businesses, and other foundations to invest in programs that address a wide spectrum of economic, social, educational, cultural and environmental needs. With over 125 donor advised funds, as well as field of interest funds, designated funds, scholarships and the Fund for the Common Good, the Foundation is the trusted steward of charitable giving in the region.
Our history
Fresno Regional Foundation was conceived by a small group of community leaders 45 years ago. Their vision was born out of the commitment to provide local investment and local control of philanthropic resources, which are essential for meeting the challenges of building strong communities in the San Joaquin Valley.
Similar to more than 800 other community foundations, Fresno Regional Foundation was established to encourage local charitable giving, honor the intent of donors, and connect philanthropists to community-based nonprofit organizations that help build a healthy, vibrant and prosperous region.
As a 501(c)(3) public benefit corporation, the Foundation is governed by a board of directors. The original board included the following members:
Lewis S. Eaton
O.J. Woodward
Lowell W. Firstenberger
Mrs. Ross Brown
Hilliard R. Giffen
Kendall L. Manock
Leon S. Peters
T. Newton Russell
Gerald Slater
Learn more . . .
Learn more about our rich history by visiting our compiled reflections on the Foundation's 40-year anniversary.
A lasting legacy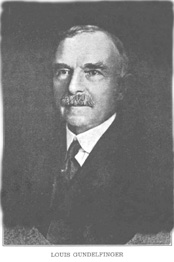 Louis Gundelfinger was a successful entrepreneur, community activist and visionary philanthropist. His gifts continue to impact our community today. His daughter-in-law, Lulu Staburn Gundelfinger, established a field of interest fund to support local parks and music in perpetuity.