Restoring the San Joaquin River
Through a generous gift from Ted Martin, a long time San Joaquin Valley resident who had a passion for the San Joaquin River, in 2009 the Fresno Regional Foundation was able to award projects and programs working to improve the flow of the River and to enhance the fish population (particularly Salmon) without the use of Eminent Domain.
The following 2009 grant recipients:
Project Name: San Joaquin River: Restoration Plus
The San Joaquin River Partnership requests a one-year grant to support the Partnership's work to advance full implementation of the federal and state San Joaquin River Restoration Program (the "Restoration Program"), including flows sufficient to support self-sustaining salmon populations, and advance the many additional opportunities the Restoration Program provides.
Project Name:San Joaquin River Stewardship Program - A Community Action Initiative
This program is a community-based action initiative engaged in the San Joaquin River Restoration Program (SJRRP). The primary focus will be on salmon recovery and riparian habitat restoration, enhancement and protection. Citizen involvement including underserved communities will be established through education, outreach, service learning and recruitment.
Project Name: Restoration Education on the San Joaquin River
The San Joaquin River Parkway and Conservation Trust (Trust) requests $41,700 to improve our restoration education program activities. These activities include monthly volunteer workdays on habitat restoration projects, nature walks, educational field trips with a service-learning component, and a summer conservation camp.
Project Name: Helping Bring Salmon Back to the SJR
Trout Unlimited (TU) proposes this project to help bring salmon back to the San Joaquin River. Specifically, TU will leverage processes to improve flow in the San Joaquin River, while simultaneously educating the Central San Joaquin Valley's hunters and anglers about flow and salmon restoration and conservation in the region.
Project Name: RiverTree Volunteers: SJR Service Learning and Restoration Program
Using already established service learning and education activities with Fresno State, local school districts and parks and recreation agencies, RiverTree will expand its re-vegetation, cleanup and education programs, include a summer program for Fresno-area children, and work with state and federal agencies on a salmon restoration project.
Neighborhood Market Program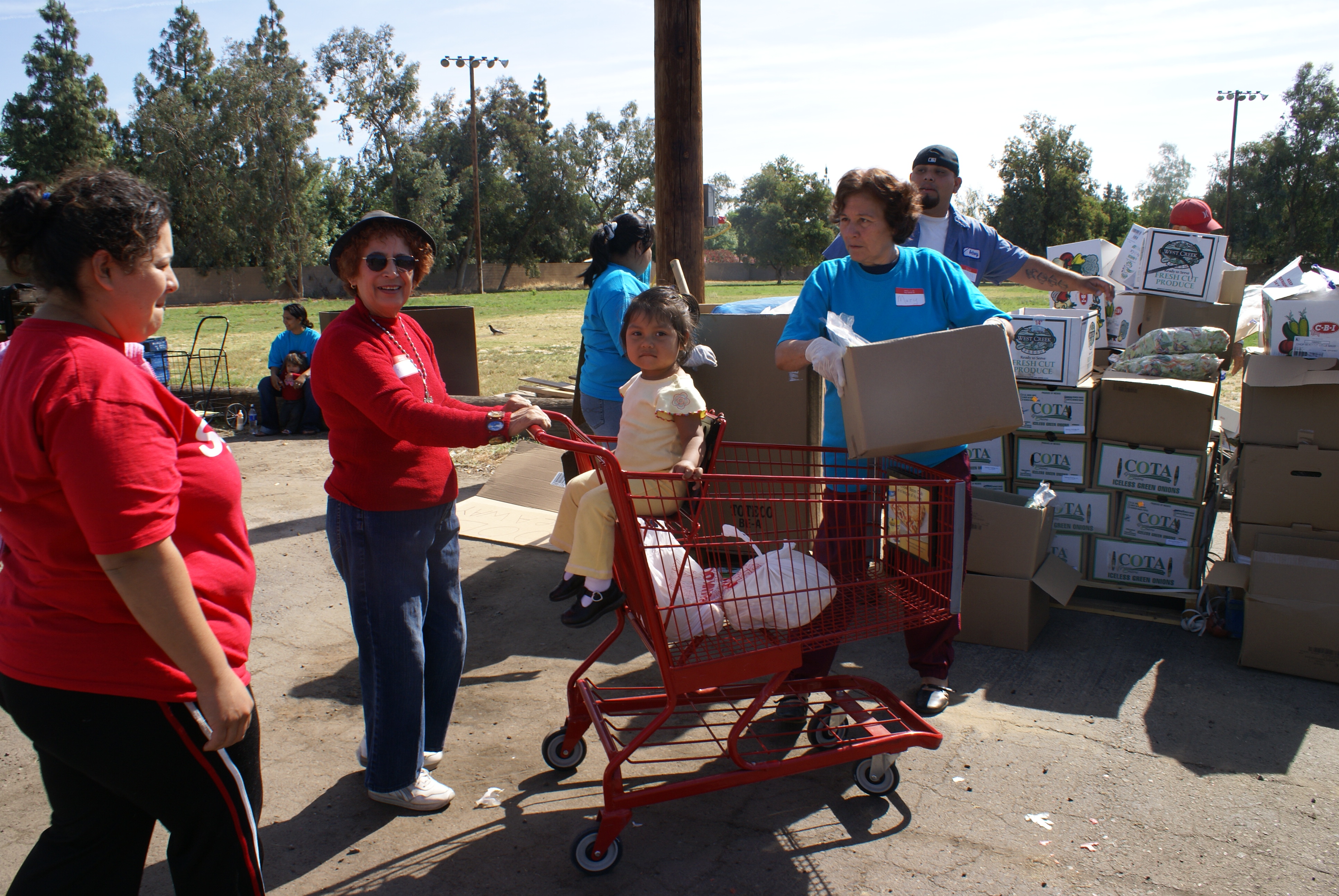 Volunteers help supervise the children as clients visit the Community Food Bank's Neighborhood Market program. This food distribution program delivers fresh produce and other healthy staples to destitute areas of Fresno, Madera and Kings Counties. Since its launch in March 2008, the program has distributed more than 1 million pounds of food in more than 30 locations. Thank you to the Fresno Regional Foundation for awarding a $10,000 human services grant to support this important work!