News Releases
The Fund
The Fresno Regional Foundation created THE FUND for the San Joaquin Valley in the fall of 2011. It is a partnership between local donors, Fresno Regional Foundation, and The James Irvine Foundation. Irvine helped launch THE FUND with a $3 million, three-year grant.
Dollars from THE FUND will be invested in programs that produce high impact for our community. Nearly $1 million will be awarded in each of the next three years, using an approach that features large-scale, multi-year grants.
THE FUND is inspiring new givers while adding a meaningful opportunity for current donors. Through an endowment model, local giving can replace the initial $3 million donation and grow THE FUND to $20 million. Our goal is to sustain grantmaking at levels of one million dollars each year forever!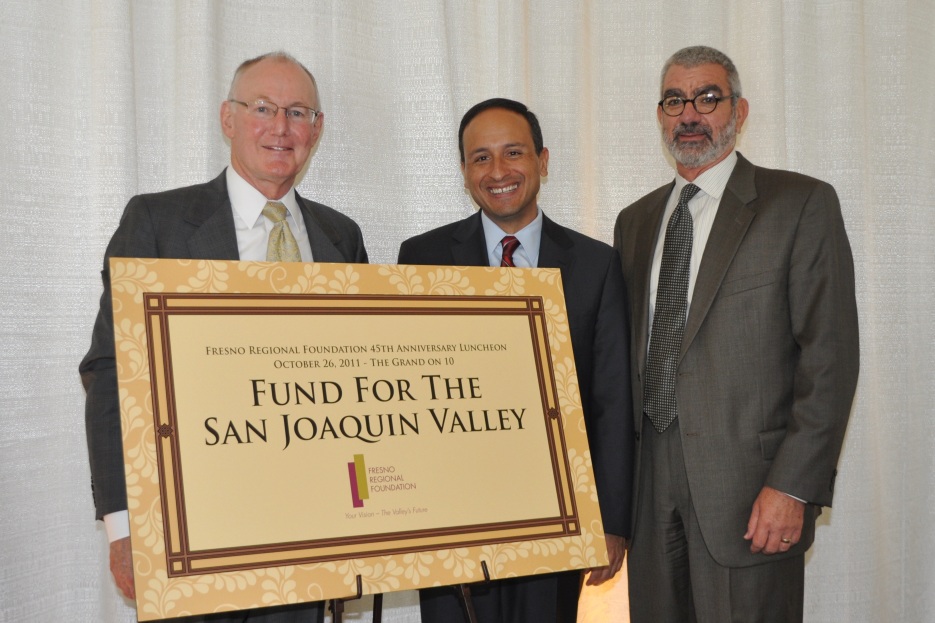 Dan DeSantis, Jim Canales and Dewey Slater announced The Fund for the San Joaquin Valley on October 26, 2011.
The first grants from THE FUND for the San Joaquin Valley are scheduled for December 2012. The Advisory Committee is diligently researching our community's most complex issues and identifying ways to have the greatest impact.
Introducing The Fund Advisory Committee
The Committee members bring deep local knowledge, diverse perspectives, and a passion for the region. Their wide range of backgrounds includes public policy, business, education, youth, advocacy, health, and philanthropy.
Oliver Baines, Fresno City Councilmember
Bob Bullwinkel, Visual and Performing Arts Coordinator, Fresno County Office of Education
Natalie Chavez, Foster Kinship Care Education, Fresno City College
Angie Cisneros, Coordinator of the Office of Reentry Programs, CSU Fresno (retired)
Kevin Hamilton, Chief of Programs, Clinica Sierra Vista, Inc.–Fresno Division
Ernie Hernandez, Executive Director, United Way of Tulare County
Ken Newby, CPA, Chair of the Fresno Business Council
Yammilette Rodriguez, Director of Programs, Youth Leadership Institute in the Central Valley
Kendra Rogers, Executive Director for First 5 Fresno County
Phoebe Seaton, Program Director, Community Equity Initiative, California Rural Legal Assistance, Inc.
Anne Vally, Senior Program Officer, Special Initiatives, The James Irvine Foundation
Amy Dominguez-Arms, Program Director, California Democracy, The James Irvine Foundation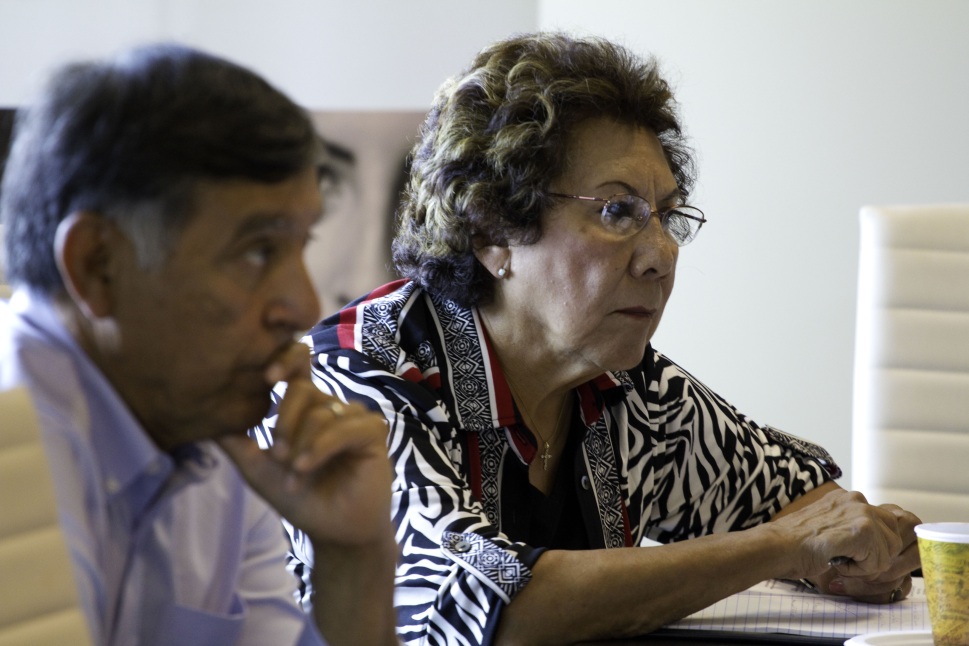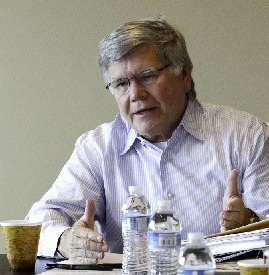 Advisory Committee members Ernie Hernandez Advisory Committee member Ken Newby
and Angie Cisneros participate in high impact
decision making.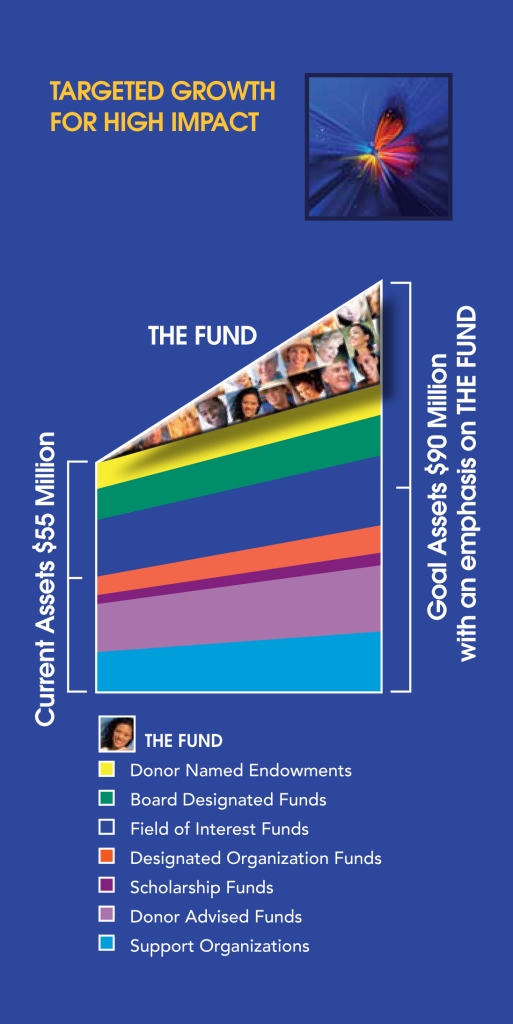 "I believe we have to quit the waiting game and begin to act together to address the critical issues in the community. No one is coming to save us...we need to do this ourselves." - James E. Canales, CEO, The James Irvine Foundation
If you want to make permanent and meaningful change to the San Joaquin Valley, The Fund is the place for your gifts. San Joaquin Valley donors, families, and businesses can provide the pipeline of support to build The Fund into local support for local impact!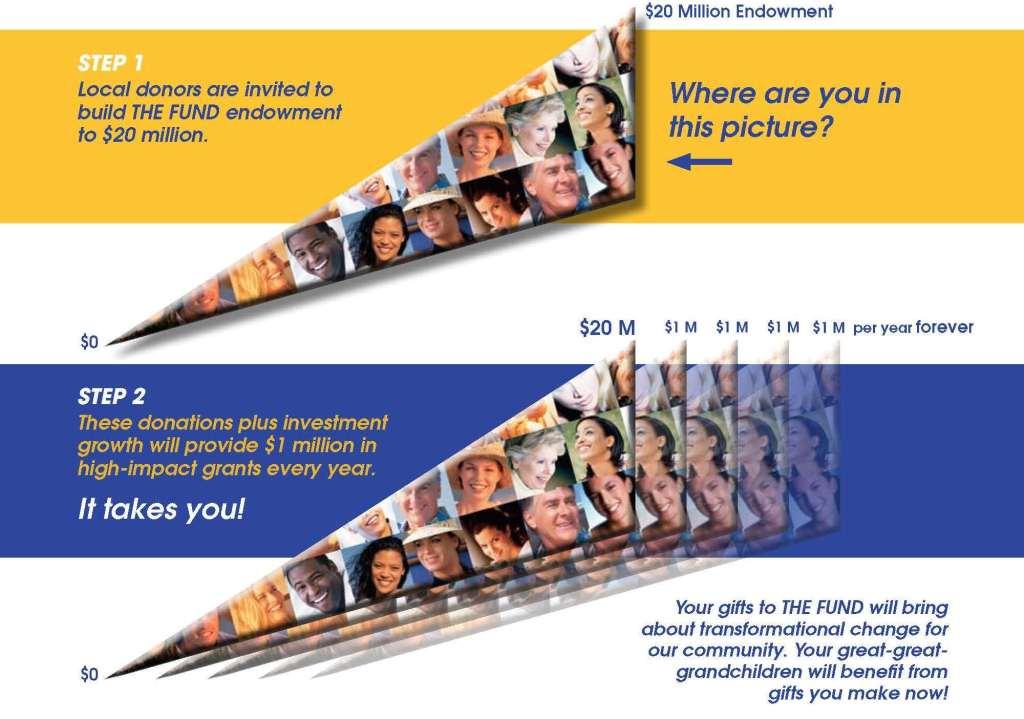 ---